I support our troops 100% and I'm always looking for new ways that I can show my support.
With 4th of July just around the corner, there are some GREAT ways that we can show our support!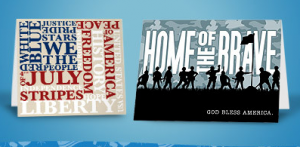 Right now, on the Tiny Prints Facebook page, you can make your own free card to show your support! They'll take care of sending your card to a military base or veterans hospital for FREE!  It only takes a few minutes of your time and it's a GREAT way to show your support!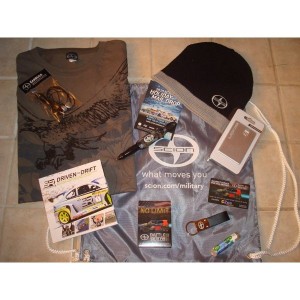 Scion will also send a FREE care package to military stationed stateside or overseas. The care package includes items such as:  t-shirts, beanie, a deck of cards, and free internet access!  Again, all it takes is a few minutes of your time to make someone else's day and show your support for the men and women who are serving our country!
Thanks to comments left by readers, I'm updating this post with these ways that you can also support the troops:
Like Gillette here on Facebook, tell them why you're proud of the service member in your life and they will donate $1 to the USO!
Taste of Home will donate $.10 to the USO for each visit here through 7/4/11. Not only are you supporting our trips, but you're getting a great recipe, too – just in time for 4th of July!
Here are two more ways that you can show your support:
Coupons for Troops ~ The end of the month is almost here.  DON'T throw away your expired coupons!  Military stationed overseas can use them for up to six months past the expiration date!  Check out this post here to see how you can donate your expired coupons to military stationed overseas!
Adopt a soldier ~ If you've been couponing for very long, then you probably have a bit of a stockpile of household items such as shampoo, body wash, deodorant, toothpaste, toothbrushes, and razors.  The troops would greatly appreciate your donations!  If you have some of these items on hand, for just the cost of shipping (use a flat rate box to get the most bang for your buck), you can make someone's day!  Check out this post here for more information on how you can adopt a soldier and send a care package through a reputable organization!
Thanks to everyone who supports our troops!  I don't have any close friends or family members serving in the military, but I'm still grateful for the sacrifices these men and women make every day!  If you're part of a military family, I send my love and appreciation to you and your family!
(Thanks Mojo Savings for the heads up on the free card and care package!)
*This post may contain affiliate links. Please refer to my disclosure policy for more information