This is a Sponsored Post. All opinions are 100% mine.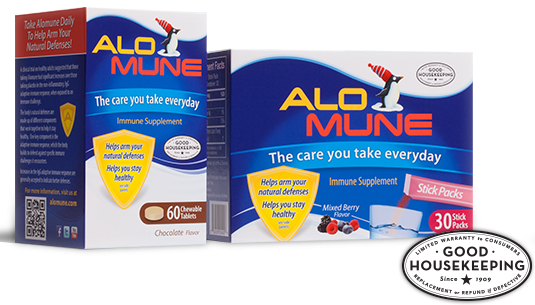 I work in an elementary school, and the winter months are when illnesses seem to be widespread. My kids also are in elementary school and it seems like each winter, we end up passing colds and other bugs around several times. It's hard for me to take days off from work for myself and my kids when we are sick, especially if we get sick more than once, so I'm always on the look-out for products that can help us beat the winter illnesses! I recently learned about Alomune, a new immune supplement that helps build your natural defenses so you can stay healthy!
Unlike other supplements that you take when you aren't feeling well, you take Alomune on a regular basis when you ARE feeling well and it helps you to stay that way! Clinical trials showed that larch arabinogalactan, the active ingredient in Alomune was twice as effective at preventing colds when compared with Vitamin C! In addition to helping build your natural defenses, Alomune also adds to your daily fiber intake and has antioxidant activity, too!
The best part for me is that Alomune is safe for children, too! My chances of staying healthy are much greater if my kids are healthy, too! It's available in a chocolate, chewable tablet or a berry powder stick pack, which makes it kid friendly and easy to take when you're on the go.
You can put Alomune to the test and find out if it's right for you by getting a one month supply for just $4.95! There are no obligations for future purchases and they also offer a money back guarantee if you don't like it. Find out more about Alomune and get your free sample here–> Alomune
You can also check out the commercial below for additional information about Alomune: