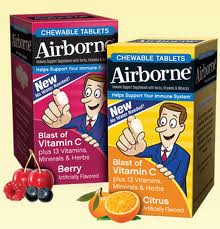 The fall and winter months are here, which means more sickness!  I know that it's already been making the rounds in my house!  Get ahead of illness with these free Airborne samples!
Your immune system has a big job to do and sometimes you want to give it some support. Airborne® products with vitamins and minerals can help support your immune system.
Click here to grab FOUR free Airborne samples–> Free Airborne samples
Here's what you'll get:
Airborne Plus Energy
Airborne Chewables
Airborne Hot Soothing Mix
Airborne Effervescent
NOTE:  This is a Facebook application, so if you are attempting to access from your Smartphone, you may get a message saying that the link is not available.  For some reason, Facebook apps don't work well with most Smartphone devices.
Get a heads up on all of the current freebie offers!  Sign up for Woman Freebies here–> Woman Freebies (I've been a member for a year now and don't get junk mail!)
See all my current freebie posts here–> Freebies 
*This post may contain affiliate links. Please refer to my disclosure policy for more information.