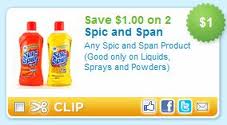 It's a new month which means there are NEW coupons!  So, the first thing I did this morning was check to see what new coupons have showed up and which of my old favorites are still around!  I was thrilled to see that the $1/2 Spic & Span printable coupon is BACK!  These are just $.97 at Walmart, so they're definitely a "stock up" price after coupons!
Here's the breakdown on the Walmart deal: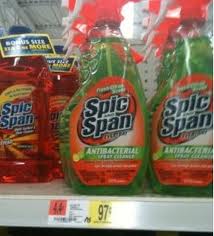 Buy 2 Spic & Span cleaners – $.97
Spend $.47/each OOP!
Fantastik has always been my favorite "everyday" cleaner, but it's become harder and harder for me to find deals on it, so I decided to try Spic & Span the last time this coupon and deal came around and I was pleasantly surprised.  For $.47, it's definitely worth trying out!  If you don't like it, you can donate it to a pet shelter.  They are always in need of cleaning supplies!
*This post may contain affiliate links. Please refer to my disclosure policy for more information