We used to love to eat at a place called Cafe Rio. We haven't found any place that compares since we moved, so I had to resort to trying to come up with my own recipe so we could somewhat get a Cafe Rio fix. This recipe is so easy to make because it's basically a "dump and go" recipe.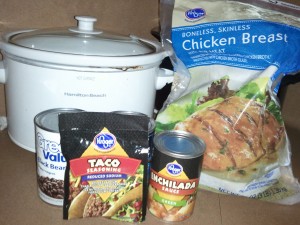 Black Bean & Chicken burritos (slow cooker)
Ingredients:
1 taco/fajita seasoning packet
2 cans black beans, drained
2-3 chicken breasts
1 can green enchilada sauce
Place chicken breasts in bottom of the crockpot and then add remaining ingredients. Cook on low 6-8 hours. Shred chicken before serving and serve in tortillas. We add cheese, sour cream, etc. to the tortillas. We sometimes add rice (cooked rice to the mixture once we're ready to serve, not in the crockpot!). This is also really good if you use beef instead of the chicken!
I like to make Cilantro lime rice to serve with this. If I'm feeling really ambitious, I sometimes make the Creamy Tomatillo dressing, too!
Find more slow cooker recipes here–>Slow cooker Monday recipes
If you like this recipe or want to try this recipe, "pin it" here–>Pin It

If you are not following me on Pinterest, follow me here–>

*This post may contain affiliate links. Please refer to my disclosure policy for more information