This is a Sponsored post written by me on behalf of Simply Right Infant Formula. All opinions are 100% mine.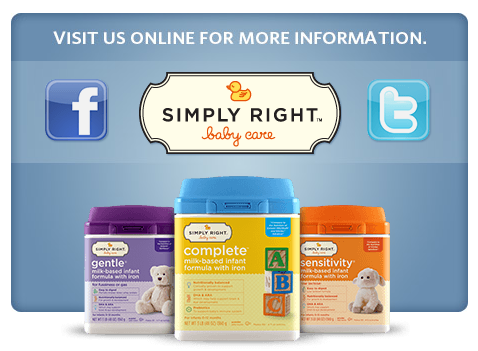 When my daughter was a baby, I gave breastfeeding my best shot.  After several weeks of meeting with lactation specialists and taking supplements, I realized that I was going to have to start supplementing with formula.  As a new mom, I was already dealing with the disappointment of difficulties with breastfeeding and then I was faced with trying to make the "right" decision about formula.  There were so many options and I was completely overwhelmed.  Formula was expensive, and I wasn't sure if more expensive equaled better quality.  I also wanted to make sure that my baby was getting the right nutrition, because I know that is crucial for growth and development at that stage.
A visit to my pediatrician put my mind at ease.  He reassured me that my baby would be able to get adequate nutrition using formula, and told me that Sam's Club carried a formula that was FDA-approved and included DHA and ARA, which may help support brain and eye development in infants, and that it was significantly less expensive than the "name brand" formulas.  I visited my local Sam's Club and began comparing the ingredients on various packages of formula and was relieved to find out that their brand actually DID contain the same ingredients and on average was $10 or more less than name brand varieties!  I am forever grateful to him for putting a new mom at ease and for not pushing higher-priced varieties on me at a time when my budget was incredibly tight!
If you're a new mom who is faced with the same decisions I was faced with, make sure you check out Simply Right Infant Formula!  Simply Right formula is available in Complete, Gentle, and Sensitivity varieties, so there is something to meet your child's needs!  When you visit the site, there is a savings calculator, so you can find out how much money you will save by using Simply Right Formula!  I always encourage my friends who are new moms and formula feeding to check it out and find out how much they'll save!
What's YOUR favorite memory of motherhood so far?  How would Simply Right Formula fit into those motherhood duties?  When I had to start using formula, one benefit for me was that my husband could start helping out with feedings, and I loved watching him and my daughter sharing those bonding moments!
Find out more about Simply Right formula and decide if it's right for you by watching the video below: