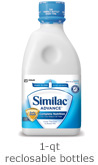 Did you get the $5 off and $3 off Similac coupons in yesterday's Smart Source insert?  If you did, you can get FREE or almost free Similac at Walmart! (and it might even be a "moneymaker" for you)
The regular price of the Similac Ready to Feed 1 quart bottles is $3.84-$3.89! (Keep in mind that pricing may vary by store and region) Remember the changes to the Walmart coupon policy that I posted about here? They allow for OVERAGE now!  This means that if your coupon is more than the amount of the product you are purchasing, you can either get cash back, or it will be applied toward other items in your transaction!
Here's the breakdown of this deal:
Buy 1 Similac Ready to Feed – $3.84
Use $5/1 coupon
Get $1.16 in overage!
OR
Buy 2 Similac Ready to Feed – $3.84/each
Use $5/1 coupon
Use $3/1 coupon
Get $.32 overage!
If your little one uses formula, the Ready to Feed is great for those late nights when you don't want to take time to prepare a bottle!  If you don't have little ones who use formula, consider donating this to moms in need or to a local food bank or shelter.
Just a note: Formula checks are processed as a check/form of payment at check-out, so you CAN use these coupons with formula checks, which could result in even more overage!
**My Coupon Hunter has the $3 coupons in stock.  If you are going to get coupons from a coupon clipping service, make sure you read the fine print and get ones that do not have any size restrictions.

*This post may contain affiliate links. Please refer to my disclosure policy for more information.