If you have a Safeway or a Safeway affiliate store (it's Randalls here) in your area, they have some HOT deals right now.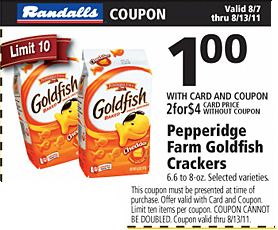 Now is the time to stock up on Pepperidge Farm Goldfish crackers.  I don't know about you, but these are basically a "staple" in my house and we go through them like crazy!  They are 10/$10 through 8/13/11!  Watch for "peelie" coupons on the outside of the Extreme Flavors bags.  There is also a printable coupon here for $.55/1 Pepperidge Farm Goldfish Grahams (I personally recommend the Vanilla Cupcake ones – so yummy!).  There are also coupon booklets that include a $.75/1 Goldfish Grahams coupon and a $.55/1 Extreme Goldfish coupon in the bags of regular cheddar Goldfish.
Also, don't forget about the "Big Beverage" event that I told you about last week – it ends tomorrow (8/9), so if you drink a lot of Gatorade, you'll want to stock up: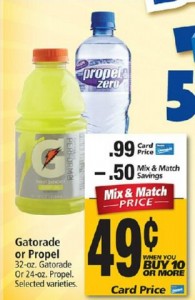 Gatorade and Propel products are only $.49 this week!  You have to buy 10 or more to get them at this price, but if you drink them regularly, that's an awesome deal!
If your stores are out of stock, remember you can also take your ad and price match at Walmart or Target!
They've also got a coupon for $5 off $15 in frozen food items that expires on 8/16/11.  I plan on using the Eggo waffles coupons from yesterday's inserts to stock up!!
*This post may contain affiliate links. Please refer to my disclosure policy for more information