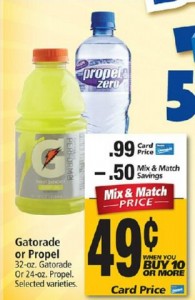 If you've got Safeway or a Safeway affiliate store in your area (in my area, it's Randalls), and you love Gatorade or Propel products, you will want to head over there and stock up!  They are only $.49 this week!  You have to buy 10 or more to get them at this price, but if you drink them regularly, that's an awesome deal!
If your stores are out of stock, remember you can also take your ad and price match at Walmart or Target!
If you want to know what else is on sale at Randall's this week, check out Frugally Thrifty!
*This post may contain affiliate links. Please refer to my disclosure policy for more information