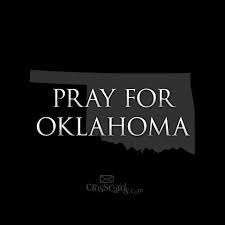 As I sit and watch the news coverage following the devastating tornadoes in Oklahoma, my heart is heavy.  I think of 24 parents who have third graders who are waiting and hoping when I have a third grader myself.  I can't comprehend the devastation or the loss.  All I can do is cry and pray.
If you have loved ones in Oklahoma, my thoughts and prayers are with you.
Here is some helpful information you may wish to share with friends and family if you are able to reach them:

Here is the contact information:
U-Haul Company of Oklahoma City
7525 SE 29th Street
Midwest city, OK 73110
(800) 522-4236
As I sit and watch news coverages following tragedies like this one, I often feel helpless and am looking for ways that I can do something, anything to help.
Here are some things you can do to help:
1.  Pray for those affected
2.  Consider items that you can donate as donation information comes forth.  Here is a list of items that were needed following Joplin:
Hygiene items (such as soap, deodorant, toothpaste, and toothbrushes)
New or used clean clothing and shoes
Nonperishable food items
Trash bags and dust masks
Flashlights and batteries
Blankets
Infant supplies (baby formula, baby food, diapers, and wipes)
Small toys (stuffed animals, dolls, etc.)
NOTE:  Make sure you check out my list of donation items for under $1–> Walmart Under $1 Deals List:  Donations for Oklahoma
3. Make a donation to reputable organizations – Even if you don't have money to donate, in the past following these types of disasters, there has been a
Text REDCROSS to 90999 to make cash donations
Text STORM to 80888 to contribute $10 to Salvation Army relief efforts (or donate via phone at 1-800-SAL-ARMY)
Online donation options:  I have heard that the money through online donations will be distributed faster because it doesn't have to go through your cell company first
4.  Donate blood – After Joplin, there was a desperate need for blood, particularly O-negative blood.  If you are able, especially if you are near the area, consider donating your blood.
5.  Gather your own donations – Get together with neighbors, community groups you belong to, friends, or your church and gather money, gift cards, or other donations to send.  The elementary school where I work is gathering donations this week, so that's where I'll be contributing!