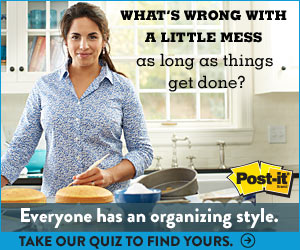 I'm a Post-it Notes JUNKIE!  I have them in my office and at home to help me stay organized and they are a lifesaver!  I'm always looking for coupons to help me find more deals on Post-Its and right now you can take this fun quiz to discover your organizing style and then you'll get free coupons at the end when you sign up for Post-it Perks!
Click here to take the quiz and get your coupons–> Post it Notes Organization Quiz and coupons
I took the quiz this morning and I'm an improviser!  It took less than a minute to take!  What's your organization style?
Click here for more printable coupons and match-ups–> Printable coupons 
*This post may contain affiliate links. Please refer to my disclosure policy for more information