I've been working in education for 14 years, but even before I began working in education, back to school time has always been an exciting time for me.  I always feel like it's comparable to New Year's. It's a fresh start.  New clothing.  New school supplies.  New friends and new teachers.  For many families, though, especially in our economy, back to school time can be a source of stress as they try to find extra money to provide new clothing and school supplies for their children.  This year, I was very excited to participate in the Pay It Forward Gutzy Gear Event, which allowed me to provide 2 backpacks and school supplies to two local elementary school-aged children in my area.  Gutzy Gear provided me with $25 to purchase as many school supplies as possible!  They also provided me with Gutzy Gear straps and patches for the backpacks!
I always look for opportunities to help my children learn to "count their blessings" so to speak and to involve them in projects where they can help others.  This seemed like a perfect project for us to participate in as a family.  My son started kindergarten this year and my daughter started third grade.  I explained to my children that there were many other children, perhaps even their classmates, who would be without backpacks and school supplies this year.  I asked them if they were willing to help.  My daughter, who has a huge heart, even offered to chip in some of her own money!  We decided to purchase school supplies for a kindergarten and third grader.
We took advantage of a BOGO free sale on backpacks at Walgreens and were able to find two backpacks for $10.99.  I bought them during tax free weekend, so we didn't even have to pay taxes!
Here are the rest of the items we purchased:  I used a school supply list from a local elementary school to determine which items to purchase
Kindergarten
Crayons (24 ct box)
Facial tissues (2 boxes)
Folders (plastic) – 2
Folders with brads – 2
Glue sticks (4)
Liquid glue (2)
Index cards (100 ct)
Pencils (3 packages)
Pink eraser
School box
Scissors
Watercolor markers (Washable)
Watercolor paint set (2)
Ziploc bags (gallon size)
3rd grade
Colored pencils
Crayons (24 ct box)
Facial tissues (2 boxes)
Folders, plastic (2)
Folders, plastic with brads (6)
Glue sticks (4)
Liquid glue (2)
Index cards (100 ct)
Notebook paper ( package)
Pencils (6 packages)
Pink eraser
School box
Spiral notebooks (8)
Yellow highlighter
Ziploc bags (gallon size)
Our total spent, including the backpacks, was $36.81, so we spent more than the $25 we had been given, but it was worth the extra $12 to be able to give two kids a fresh start this school year!
Here's the finished product, complete with the Gutzy Gear Patches!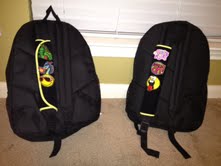 If you're not familiar with Gutzy Gear, here's some information about them:
Gutzy Gear is a great, new way to express yourself by customizing your backback, sports duffel, messenger bag, and more! Gutzies are cool looking removable patches. Gutzies stick to a Gutzy strap cover that you put wherever you want to go Gutzy! With 56 Gutzies in a series and new Gutzies constantly being introduced, you can collect and trade a world of Gutzies.
I got some for my kids to start out the school year and they love them!
Thanks again to Gutzy Gear and Madame Deals Media for organizing this event!
Disclosure:  I did not receive any compensation for writing this post.  I did receive $25 from Gutzy Gear to purchase backpacks and school supplies.  All opinions contained within this post are my own.  Please refer to my disclosure policy for more information.