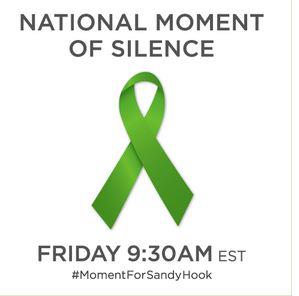 It's hard to believe that a week has passed since the horrifying events at Sandy Hook Elementary that forever changed the lives of 27 families and that led the rest of the nation to take a step back, re-prioritize, and huge our own children a little tighter.  I have a 5 year old son and an 8 year old daughter and I cannot imagine what these parents went through when they found out that they wouldn't be taking their children home with them that day.  I also work in an elementary school and I know that when you work in a school, your co-workers become like a second family.  Not a day has passed over the past week when I haven't though of the faces of those beautiful children and their families.  I have cried for them and prayed for them and today at 9:30 AM EST, I will be taking a moment to join thousands of others across the nation to #the same.
If you're looking for ways that you can help support these families and the city of Newtown, CT, here are a few:
Send a Message of Condolence – The US Postal Service has established a unique PO Box to allow the public to send condolences to those affected.  Send your cards and messages here:
Messages of Condolence for Newtown
PO Box 3700
Newtown, CT 06470
Make a Snowflake for Sandy Hook Elementary's New Home – The PTSA is hoping to line the walls of the new home for Sandy Hook Elementary School students with snowflakes when they return to school in January.  You can send your snowflakes by January 12th to this address:
Connecticut PTSA
60 Connolly Parkway, Building 12, Suite 103
Hamden, CT 06514
Participate in #26Acts – Ann Curry sent out a message via social media earlier in the week asking people to complete Random Acts of Kindness in honor of students and faculty who died at Sandy Hook Elementary.  You can post about how you have participated by posting on the 26 Acts of Kindness page on Facebook or by Tweeting using #26Acts.  Find out more about this movement here–> 26 Acts of Kindness
Donate to the Sandy Hook School Support Fund – There are numerous private memorial funds that have been set up to support the families or charitable organizations in honor of those who were killed.  You can also donate to the general fund to help the entire community of Newtown, CT recover from this tragedy.  Find out more about the Sandy Hook School Support Fund here–> Sandy Hook School Support Fund
Most importantly, hug your children a little tighter tonight.  Take time out from the busyness of life to reflect on your blessings and to pray for these families.