October is Domestic Violence Awareness Month.  Did you know that one in four women has experienced some sort of domestic violence during their lifetime?  That is more woman than will be diagnosed with breast cancer and ovarian cancer combined!  This means that someone you know (and probably more than one person you know) has been exposed to domestic violence at some point in their life.  While we talk openly about cancer, domestic violence is often a "taboo" subject.  People don't know what to say or are afraid to start conversations about domestic violence.
True to their motto, like a good neighbor, the Allstate Foundation has pledged to get the word out about domestic violence, to help people get conversations started, and to provide resources and education to empower victims of domestic violence.  I am thrilled that they selected me to help spread the word about this important cause!
The Allstate Foundation has chosen a Purple Purse as the symbol for their Domestic Violence Awareness campaign and to make it easier for people to be able to talk openly about domestic violence and financial abuse.   They sent out 1,000 purses carrying domestic violence information throughout the country.  I was one of the lucky recipients of these purses!  The purses can be passed between co-workers, friends, and family.  In addition, for every purple purse that is passed through the end of October, the Allstate Foundation will donate $5 to the YWCA for programs that are designed to help domestic violence survivors.  They have already donated $350,000!
How You Can Help Stop the Cycle of Abuse
1.  Pass the Purse!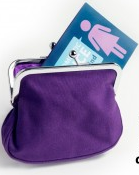 Click here to register your virtual post and keep the conversation about domestic violence going–>   Pass the Purple Purse
Register your "virtual" purse using the code 0030 
Spread the word to your friends
2.  Educate yourself!
3.  Don't be afraid to start the conversation
I will be forever grateful to a dear friend who, 15 years ago was not afraid to start those difficult conversations.  It changed my life forever.
Do you know someone who has been a victim of abuse?  Did you register YOUR virtual purse?  Keep the conversation going!
Disclosure: This post is part of a sponsored campaign with The Allstate Foundation and MomSelect. All thoughts and opinions are my own.