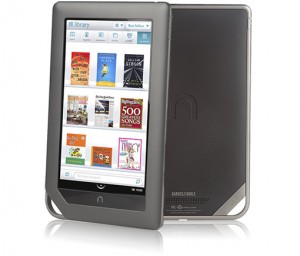 1SaleADay has a HOT deal for you today!  You can get a Certified Pre-Owned Nook Color eReader for just $129.99 shipped!  The regular retail price is $249.99!  This comes with a full one year warranty!  The Tech Flash Sale on 1SaleADay includes lots of other great deals, too such as Kodak Easyshare cameras for just $29.99, mini camcorders for $14.99, and more!
Reading books is just the start of what you can do on the NOOK Color with Wi-Fi(r). Enhanced web browsing, e-mail and an app store with tons of your favorite apps will keep you entertained and informed. The 7-inch VividView color touchscreen with a 178 degree viewing angle is great for reading and the touchscreen makes makes buying and reading books a breeze.
Click here to grab this deal–> Nook Color eReader for $129.99 shipped
NOTE: You must be logged in to your 1SaleADay account to access the Flash Sale tab
7-inch VividView™ Color Touchscreen
Backlit displays with more than 16 million colors
178 degree viewing angle
Wi-Fi(r) built-in
Over 2 million titles to choose from, sample books before you buy
Read books, newspapers, magazines and interactive children's books
Built-in Merriam-Webster Dictionary
Highlight and take notes on text
Lend and borrow books with friends
Pre-loaded NOOK Apps: Pandora internet radio, crossword puzzles, Sudoku, chess
Apps store with your favorite apps
Enhanced web browsing with video and e-mail access
Exclusive LendMe™ technology lets you share books with friends
Lifetime Library:™ books are yours forever, can be re-downloaded if NOOK is upgraded or lost
NOOK Friends™ social network for readers
Bring NOOK to a Barnes & Noble bookstore and read NOOK Books for free (1 hour per title per day)
Landscape and portrait viewing modes
Adjustable font style, text size, line spacing
8GB space (holds up to 5,000 books)
Expandable micro SD memory (32GB max)
Includes micro-USB 2.0 cable and A/C adapter
*This post may contain affiliate links. Please refer to my disclosure policy for more information.