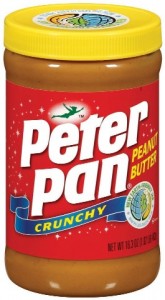 Have you tried Peter Pan's Whipped Creamy Peanut butter?  I bought it by mistake one day, and now I'm hooked!  It has fewer calories, less fat, and less sugar than the "regular" stuff without sacrificing the taste (I can't do "reduced fat" peanut butter because I think that it just tastes weird, but this stuff is SO good!)  In case you're wondering, no one paid me to say this.  I just love it and wanted to share!
Now that I'm hooked on this stuff, I was really excited to see that Conagra has released a new printable coupon for $.50/1 Peter Pan Peanut Butter.  If your stores double coupons, this makes it even better!
There are several other printables available, too! (PLEASE NOTE:  You need to enter the code 63829897 to print these)
You can print all of these coupons here:
$.50 off one Jar of Peter Pan Peanut Butter
$1 off two Healthy Choice Frozen Meals
$.50 off any two Banquet Frozen Meals
$1 off any two Healthy Choice Soups
$1 off two Fresh Mixers
$1 off two Marie Callender's Frozen Meals
$1 off two Kid Cuisine Frozen Meals
$.50 off three Chef Boyardee Products
*This post may contain affiliate links. Please refer to my disclosure policy for more information.