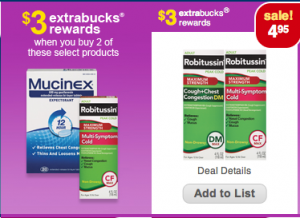 If you don't buy the Sunday paper, you can still take advantage of this hot MONEYMAKER on Robitussin at CVS thanks do a new $3 off Robitussin printable coupon!  Cold and flu season is upon us!  Stock up so you're ready when it hits you!
Here's a scenario for you:
Buy 4 Robitussin Cold Relief Products – $4.95 each 
Use 4 $3/1 Robitussin Products coupons (you will need access to 2 computers)
Spend $7.80 OOP, get a $6 ECB
Submit $6 Pfizer MIR WYB 3 products (Robitussin is included) – this was in the 8-25 RP insert
Final Price = $1.80 OOP for 4 after ECBs ($.45 each) or $4.20 moneymaker if you have the rebate!
NOTE:  There is also a $3 off Robitussin coupon in the 9-29 RP insert!
See more printable coupons here–> Printable coupons
If your store is sold out, remember you can always price match at Walmart!
(Thanks Coupon Clippin' Daddy)
*This post may contain affiliate links. Please refer to my disclosure policy for more information