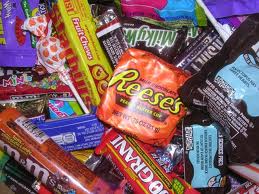 Have you been procrastinating buying Halloween candy?  I have found that if I buy it early, everyone ends up eating it before Halloween and I have to buy more anyway!  This year I decided to wait and I haven't regretted my decision because there have been some GREAT coupons!  Right now, there is a printable coupon for $1.50/1 bag of Mars fun size Halloween candy!  You can use this coupon at Toys 'R Us this week or at Walgreens next week to get Halloween candy for just $.49/bag.
Print your coupon here before it's gone (sort by foods and use zip code 77041 if you don't see it under your zip code)–>$1.50/1 Mars fun size Halloween candy
This week, the Mars fun size bags are just $1.99 at Toys 'R Us and Walgreens (with in ad coupon), so you'll pay just $.49 after coupon. If your store is sold out, you can also try price matching at Walmart!
You can also do this deal at CVS:
Buy 4 Mars snack size candy – $2.50/each
Use 4 $1.50/1 Mars fun size coupon
Spend $4 OOP, get a $3 ECB
Final Price = $.25 each after coupons and ECBs!
Next week, you can use your coupons on two separate deals at Walgreens:
Buy 1 Hershey's, Mars, or Nestle fun size candy – $2.49, get a $.50 RR (Sunday/Monday only)
Use $1.50/1 Mars fun size coupon
Spend $.99 OOP, get a $.50 RR
Final Price = $.49 after RR
OR
Buy 4 M&Ms products – 4/$10
Use 4 $1.50/1 Mars fun size coupons
Spend $4, get a coupon for $5 off your next Mars candy purchase at check-out
Final Price = $1/bag (and your next bags will be $1.25/each)