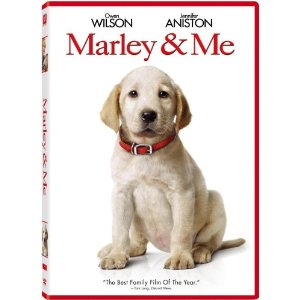 Marley & Me is on sale at Target this week for just $7!  There is also a printable coupon for $3/1 Marley & Me.  You can grab this movie for just $4 after coupon.  Buy a popcorn bowl at Dollar Tree and throw in some popcorn and candy and you've got a cheap gift basket!
Hurry and print your coupon here–>$3/1 Marley & Me
There are several other printable coupons available.  Here are match-ups for additional printable movie coupons thanks to Frugally Thrifty.
Knight and Day DVD – $13.00
Use $3.00 off Knight and Day on DVD
Final Price: $10.00
Diary of a Wimpy Kid DVD – $13.00
Use $3.00 off Diary of a Wimpy Kid on DVD
Final Price: $10.00
Marley and Me DVD – $13.00
Use $3.00 off Marley and Me on DVD
Final Price: $10.00
Just Wright DVD – $13.00
Use $3.00 off Just Wright on DVD
Final Price: $10.00
Tooth Fairy DVD – $10.00
Use $3.00 off Tooth Fairy on DVD
Final Price: $7.00
Alvin & The Chipmunks DVD – $7.50
Use $2.00 off Alvin and The Chipmunks on DVD
Final Price: $5.50
Ice Age: The Meltdown DVD – $7.50
Use $2.00 off Ice Age: The Meltdown on DVD
Final Price: $5.50
Fantastic Mr. Fox DVD – $7.50
Use $2.00 off Fantastic Mr. Fox on DVD
Final Price: $5.50
Marmaduke DVD – $15.96
Use $3.00 off Marmaduke on DVD
Final Price: $12.96
Percy Jackson and The Lightning Thief DVD – $10.00
Use $3.00 off Percy Jackson and The Lightning Thief on DVD
Final Price: $7.00
*This post may contain affiliate links. Please refer to my disclosure policy for more information