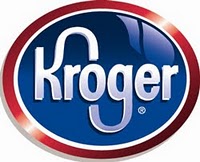 You can read Kroger's coupon policy for the Texas/Louisiana market here–>Kroger Texas/Louisiana coupon policy
NOTE:  I recommend printing and keeping a copy of the coupon policy!
Don't forget to load your coupons to your Kroger card:
Cellfire
Kroger
P&G Esaver
Shortcuts
Upromise
**For more information about loadable coupons and how they work check out this post! Digital (loadable) coupons do not double and are one time use.  Also, you cannot "stack" digital and paper coupons.
If you need coupons to match up with these deals, don't forget to check out My Coupon Hunter!
**This ad is based on the Texas/Louisiana market.
This is my favorite "stock up" deal this week: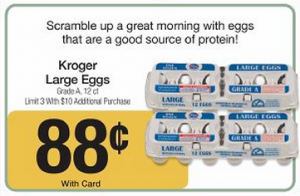 Kroger large eggs (12 ct) – $.88 (limit 3 w/ $10 additional purchase)
$.55/2 dozen eggs printable coupon
Final Price = $.60 per dozen after coupon when you buy 2 dozen!
Did you know you can freeze eggs? Here's how–>How to freeze eggs You can also make freezer meals using eggs!
Here are some HOT 10/$10 deals. You do not need to purchase 10 items to get the $1 pricing
Colgate toothpaste or toothbrush – 10/$10
$.75/1 Colgate toothpaste – 3-25 SS
$.40/1 Colgate adult or kids toothbrush – 3-25 SS (excludes Plus)
Final Price = as low as $.25 for the toothpaste or $.60 for the toothbrush (if your stores double coupons, the toothbrushes will only be $.20)
Dole canned pineapple (20 oz can) – 10/$10
$1/3 Dole Pineapple printable
$.50/2 Dole canned pineapple – February 2012 All You Magazine
Final Price = $.67 each after coupon when you buy 2 ($.50 each if your stores double coupons)
Ivory body wash – 10/$10
$.35/1 Ivory bar or body wash – 3-4 PG (*expires 3-31)
Final Price = $.65 each after coupon (if your stores double coupons, this will be just $.30 after coupon!)
Lever 2000 soap (2 bars) – 10/$10
Mini Peeled carrots (16 oz) – 10/$10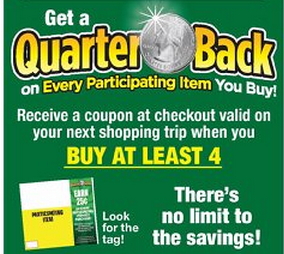 NOTE: You should be able to mix and match any 4 of these participating items
7Up Soft Drinks – 10/$10
Final Price = $.75/each after $.25 back promotion when you buy 4
Banquet Entree or Brown 'N Serve Sausage – $.99
Final Price = $.74 each after $.25 back promotion when you buy 4
Chef Boyardee – $.86/each
Final Price = $.61/each after $.25 back promotion when you buy 4
Gatorade or G2 – $.96/each
Final Price = $.71/each after $.25 back promotion when you buy 4
Quaker Quakes – 10/$10
Final Price = $.75/each after $.25 back promotion when you buy 4
SoBe Juice, Tea, or Life Water – 10/$10
Final Price = $.75/each after $.25 back promotion when you buy 4
Mix and Match Stock Up Promo: Buy 4 participating products, save $4 instantly
Bounce dryer sheets – $4.99
$.50/1 Bounce product – 3-11 SS
Final Price = $3.49 when you buy 4 participating products ($2.99 if your stores double coupons)
NOTE: e-coupons will not double
Bounty Paper Towels – $15.99
$1/1 Bounty paper towels Kroger e-coupon
$.25/1 Bounty paper towels – 3-4 PG (*expires 3-31)
Final Price = $13.99 when you buy 4 participating products
NOTE: e-coupons can only be used once per account
Charmin – $6.99
$.25/1 Charmin – 3-4 PG (*expires 3-31)
$1/1 Charmin Kroger e-coupon
Final Price = as low as $4.99 when you buy 4 participating products
NOTE: e-coupons can only be used once per account
Downy – $4.99
$.50/1 Downy – 3-11 SS
$.50/1 Downy Kroger e-coupon
Final Price = $3.49 when you buy 4 participating products ($2.99 if your stores double coupons)
NOTE: e-coupons will not double
Febreze Air Effects – $2.49
$.50/1 Febreze Air Effects Kroger e-coupon
$.50/1 Febreze Air Effects – 3-4 PG (*expires 3-31)
Final Price = $.99/each when you buy 4 participating products ($.49 each if your stores double coupons)
NOTE: E-coupons will not double
Tide Detergent – $5.99
$.50/1 Tide detergent – 3-4 PG (*expires 3-31)
$1.50/2 Tide detergent – 3-4 PG (*expires 3-31)
$1/1 Tide detergent – 3-11 SS
$.50/1 Tide detergent Kroger e-coupon
Final Price = as low as $3.99 after coupon when you buy 4 participating products
OTHER DEALS:
Boneless bottom round roast – $1.99/lb (limit 2 w/ $10 additional purchase)
Kroger value boneless, skinless chicken breasts – $1.99/lb
Whole pineapple – $1.99
*This post may contain affiliate links. Please refer to my disclosure policy for more information