You can read Kroger's coupon policy for the Texas/Louisiana market here–>Kroger Texas/Louisiana coupon policy
NOTE:  I recommend printing and keeping a copy of the coupon policy!
Don't forget to load your coupons to your Kroger card:
Cellfire
Kroger
P&G Esaver
Shortcuts
Upromise
**For more information about loadable coupons and how they work check out this post! Digital (loadable) coupons do not double and are one time use.  Also, you cannot "stack" digital and paper coupons.
If you need coupons to match up with these deals, don't forget to check out My Coupon Hunter!
**This ad is based on the Texas/Louisiana market.

This week Kroger is having a Buy 5, save $5 event: Buy 5 participating items, get $5 off instantly at check-out!
Here are some of the highlights:
Dreyer's Fruit Bars (6-12 ct) – $3.69
$1/1 Dreyer's Fruit bars printable
$1/1 Dreyer's Fruit bars printable
Final Price = $1.69 after coupon and store promotion (when you buy 5 participating items)
Kellogg's cereals – $2.88
$1/3 Kellogg's cereal printable
$1/2 Kellogg's Fiber Plus printable
$1/2 Kellogg's Fruit Loops printable
$1/2 Kellogg's Rice Krispies printable
$1/2 Kellogg's cereals printable
Final Price = as low as $1.38 each after coupon and store promotion (when you buy 5 participating items)
Kellogg's Eggo waffles (20-24 ct) – $3.99
$.75/2 Kellogg's frozen items – 5-6 RP
Final Price = $2.61 each after coupon and store promotion (when you buy 5 participating items)
Kellogg's Pop Tarts – $2.99
$1/3 Kellogg's Pop Tarts printable
$1/3 Kellogg's Pop Tarts – 5-13 RP
Final Price = $1.66 after coupon and store promotion (when you buy 5 participating items)
Kellogg's Rice Krispies treats – $2.69
$1/2 Kellogg's Rice Krispies treats printable
Final Price = as low as $1.19 each after coupon and store promotion (when you buy 5 participating items)
Lean Cuisine (select varieties) – $2.76
$1/2 Lean Cuisine printable (for Savings Club members)
$1/4 Lean Cuisine Products SavingStar e-coupon
$2/4 Lean Cuisine products – 4-29 SS
Final Price = as low as $1.26 each after coupon and store promotion (when you buy 5 participating items)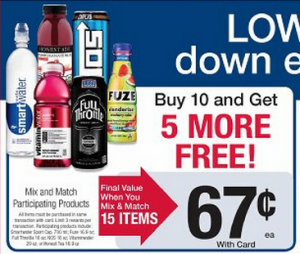 There is a mix and match sale on beverages:  buy 10 participating beverages, get 5 FREE!
Final Price = $.67 each!
-includes SmartWater, Fuze, VitaminWater, Full Throttle, NOS, or Honest Tea
Mrs. Baird's Bread – BOGO free
Oscar Mayer Lunchables – 10/$10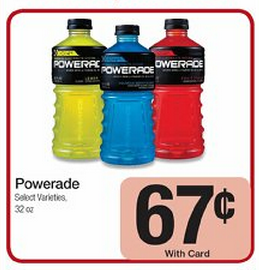 Powerade – $.67/each
Red, seedless grapes – $.99/lb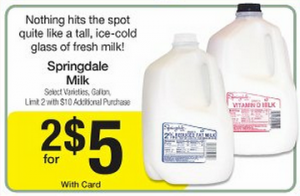 Springdale milk – 2 gallons for $5 with additional $10 purchase
Tyson frozen chicken (select varieties) – $5.99
$.75/1 Tyson bagged breaded chicken breasts – 4-29 RP
Final Price = $5.24 after coupon
*This post may contain affiliate links. Please refer to my disclosure policy for more information