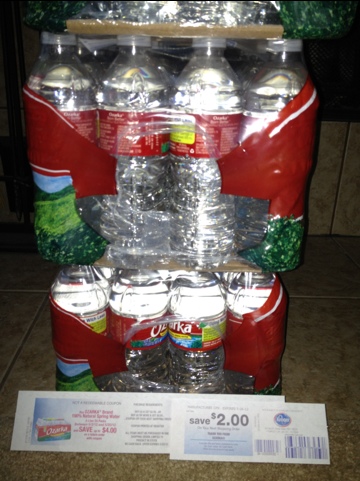 Kroger has a HOT catalina deal right now on Ozarka water that matches up with the mega sale going on right now! I was stocking up on water when I went shopping this weekend and was pleasantly surprised when the catalina coupon popped out!
Check out the rest of the top Kroger deals for the week here–> Kroger Top 10 items to add to your stockpile
Here is the Mega Sale promotion that is going on currently:  Buy 10 participating items, save $4 instantly
Ozarka water – $3.39
Final price = $2.99 each when you buy 10 participating items
Here are the terms of the catalina offer:
Buy 3, get $2 (makes it $2.32 each after catalina and store promotion!)
Buy 4, get $4 (makes it $1.99 each after catalina and store promotion!)
This offer is valid through 5/20/2012 so you've still got plenty of time to stock up!
If you're not familiar with catalina coupons, check out this post here–> What is a catalina coupon?
*This post may contain affiliate links. Please refer to my disclosure policy for more information