If the Kroger Mega Sale is still going in your area (it runs through Tuesday night in the Texas/Louisiana market), RUN there  because you can score stock up deals on cereal, water, and Crystal Light!  I ran there on my lunch break yesterday, and I was so excited!  Here's the back of my car as I threw everything in before I headed back to work!
Kroger Mega Sale Stock up Deals on Cereal, Water, and Crystal Light
Before you go, here are 2 things you'll want to do: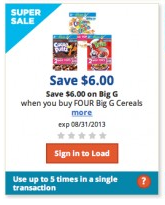 1.  Print the $1/2 Nestle Pure Life water coupon (you should be able to print 2 if you hit the back button on your browser)
2.  Load the Kroger $6/4 GM cereal coupon to your card
There are two catalina deals you can take advantage of:
Buy Nestle Pure Life Water (through 9/4)
Buy 2, Get $1 OYNO Catalina coupon
Buy 3, Get $3 OYNO Catalina coupon
Buy 4, Get $5 OYNO Catalina coupon
Buy Crystal Light (through 8/25)
Buy 3, get a $1.50 OYNO  Catalina coupon
Buy 4, get a $2.50 OYNO Catalina coupon
Buy 5+ get a $4 OYNO Catalina coupon
Here's what I did:  I could have separated out transactions and saved more, but I was in a hurry!
TRANSACTION #1:
Buy 20 boxes Family Size GM cereals – $1.99 with Mega Sale pricing (I bought a combination of Honey Nut Cheerios, Cinnamon Toast Crunch, and Lucky Charms)
Buy 4 cases Nestle Water – $2.99 each with Mega Sale pricing
Buy 6 Crystal Light – $1.50 with Mega Sale pricing (I bought the individual packets that go in water bottles
-$6/4 GM Cereals coupon (this deducted $30)
-2 $1/2 Nestle water coupons
Spend $28.76, get $4 OYNO catalina for the Crystal Light and $5 OYNO catalina for the water
TRANSACTION #2:
Buy 5 Crystal Light – $1.50 with Mega Sale Pricing
-$5 OYNO catalina
Spend $2.50 OOP, get $4 OYNO catalina
NOTES:
The $6/4 GM coupon is valid for up to 20 boxes of cereal in 

ONE

transaction.  You cannot use it on multiple transactions.  It should come off automatically.  This coupon is not working in some areas, but if you have a Kroger near you, it's definitely worth a shot!
Pay close attention to size restrictions on this coupon.  Most boxes must be the XL or family size boxes.
Let me know what Mega Sale deals you score!