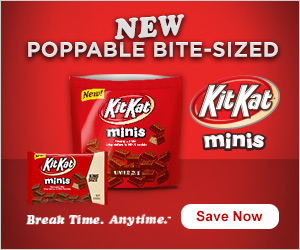 If you love chocolate, make sure you grab this high dollar coupon for
Kit Kat Minis!
You can score the bags for just $.50 each at CVS this week!
Click here to watch the short video and you'll get a $1 off coupon-> Kit Kat Minis coupon
Share this with your friends after the video and your coupon amount jumps to $2.50! You should be able to print 2 per computer!
Disclosure:  This post may contain affiliate links!  Please refer to my disclosure policy for more information!