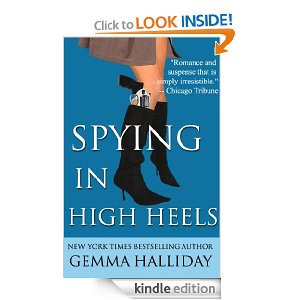 I got my first Kindle about two years ago and then got a Kindle Fire for Christmas!  I love my Kindle Fire and I love all the free Kindle books that are available even more!  Today you can grab Spying in High Heels by Gemma Halliday free for your Kindle!  I read this one a few months ago when it was available for free and it was a quick and easy read!
L.A. shoe designer, Maddie Springer, lives her life by three rules: Fashion. Fashion. Fashion. But when she stumbles upon the work of a brutal killer, her life takes an unexpected turn from Manolos to murder. And things only get worse when her boyfriend disappears – along with $20 million in embezzled funds – and her every move is suddenly under scrutiny by the LAPD's sexiest cop. With the help of her post-menopausal bridezilla of a mother, a 300 pound psychic and one seriously oversexed best friend, Maddie finds herself stepping out of her stilettos and onto the trail of a murderer. But can she catch a killer before the killer catches up to her…
Click here to grab this freebie for yourself–>Spying in High Heels free Kindle download
Here are a few other free Kindle downloads you can grab right now:  
Always the Designer, Never the Bride
Always the Wedding Planner, Never a Bride
Check out the top 100 free Kindle downloads here–>Top 100 free Kindle downloads
Even if you don't have a Kindle, you can get a free Kindle reading app for your PC or mobile device!
NOTE:  All of these books were available for free at the time of this posting, but pricing on Amazon can change at any time.  Please verify pricing before you finalize your purchase!
*This post may contain affiliate links. Please refer to my disclosure policy for more information