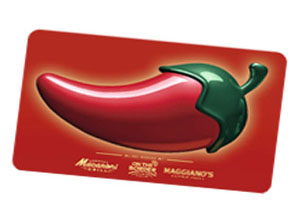 I've mentioned My Points several times now as a way to earn gift cards to help cut down your Christmas expenses.  Another great thing that My Points offers is HOT daily deals!  Today My Points has a $20 Chili's gift card for just $10!
Here's how you can grab this deal:
Sign up for a My Points account here–>MyPoints.com registration
Then, go here to grab this deal–>$10 for a $20 Chili's gift card 
My Points is an EASY way to earn gift cards, too!  I joined the site about 6 years ago and in that time, I have earned gift cards to places such as Chili's, Target, Rainforest Cafe, Amazon.com, and CVS.
Here are some easy ways that you can earn points through My Points:
*Read the e-mails you receive – You will get 1-2 e-mails per day with various offers (I have not gotten any additional spam from this site, but you may want to sign up with a different e-mail address). Click on the "get points" icon in the e-mails that you receive and they will be added to your account! I usually earn 150-200 points each month just by doing this!
*Print and redeem coupons – you can print your coupons through MyPoints and you earn points each month when you redeem them!
*Earn points for your Bzz Agent reports – If you are a member of Bzz Agent (and if you're not yet, you should join that, too!), you will typically earn 50-100 points for every Bzz report you submit. These are added to your My Points account!
*Shop through the links on their site – I usually do most of my shopping through Ebates, but if a retailer is not listed with them, I always check out My Points next!
Your points will add up before you know it and with 1,500 points, you can cash out for gift cards from several popular retailers including:
*Barnes and Noble
*Bass Pro Shops
*Bath and Body Works
*Borders
*Chili's
*Gap/Old Navy
*Panera Bread
*Red Lobster/Olive Garden
The best part is that you get 100 bonus points just for signing up here! 
(Thanks Mojo Savings!)
*This post may contain affiliate links. Please refer to my disclosure policy for more information.