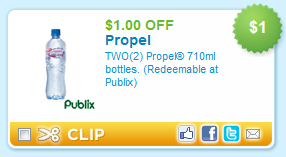 There are some HOT new printable coupons available for some of your favorite drinks!  These coupons are all pretty rare, so hurry and grab them while you can!
$1/3 Pepsi 8 bottle packs (12 oz)
$1/2 Propel (these often go on sale 2/$1, so you may able to get them for FREE!)
$1/2 Starbucks Frappuccino drinks (4 ct)
You can find all of these coupons under the zip code 30303 when you sort by "Beverages."  Although they have a Publix logo, they are manufacturer's coupons, so you should be able to use them anywhere.
*This post may contain affiliate links. Please refer to my disclosure policy for more information