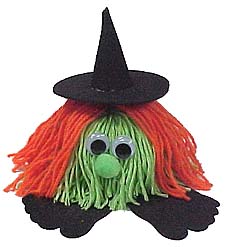 I know that Halloween is over a month away, but October seems to come and go before I have even had a chance to decorate so I thought I would start early this year and really take the time to enjoy the holiday.  So from now until the end of October, I will be posting any great Halloween crafts I come across so I can share them with you.  I hope you enjoy!
The first Halloween craft I want to share are these adorable yarn bugs.  My kids are going to love these.  Thanks to Making Friends for the great idea!
Here is what you need to make the witch yarn bug:
Orange and Neon Green Yarn
Pattern for Witch Hat
Black Craft Foam
Black Foam Feet
Two Wiggle Eyes — 20mm
1/2″ Neon Green Pompom
2-1/2″ Styrofoam Ball
5″ Square of Cardboard
Tacky Glue and Clothespin
Scissors
Here is to tutorial on how to make the witch yarn bug ->Witch Yarn Bug Tutorial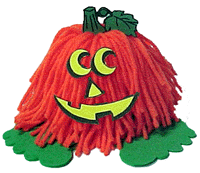 There are also Pumpkin and Spider yarn bugs as well.  Here are the tutorials for those.