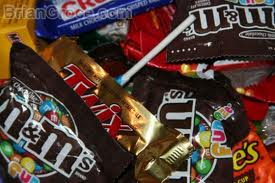 I have completely procrastinated buying Halloween candy, but from previous experience, it seems like the best coupons and deals come right before Halloween.  I'll be heading out to buy Halloween candy today because we have a "trunk or treat" Halloween event at our church tonight.
Click on the links below for printable Halloween candy coupons:  these are direct links and you should be able to print 2 of each per computer
$1 off 2 Mars Halloween fun size candy bags coupon
$1.00 off any 2 Skittles, Starburst, or Life Saver candy coupon
$1 off any Mars variety bag coupon (30 oz+)
$1 off 2 Hershey's Milk chocolate bars coupon
Here are some deals for you:
TOYS 'R US: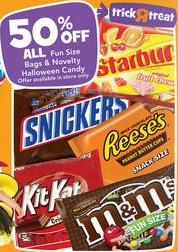 Toys 'R Us has all Halloween candy for 50% off!  You can score Skittles, Starburst, or Mars candy for just 1.49 per bag after coupons!
Buy 2 Mars Halloween fun size candy bags (9.78-12.5 oz) – $1.99 each
–$1 off 2 Mars Halloween fun size candy bags coupon
Final Price = $1.49 per bag after coupons (when you buy 2 bags)
Buy 2 Skittles or Starburst fun size candy bags (9.78-12.5 oz) – $1.99 each
–$1 off 2 Skittles, Starburst, or Lifesavers coupon
Final Price = $1.49 per bag after coupons (when you buy 2 bags)
WALGREENS: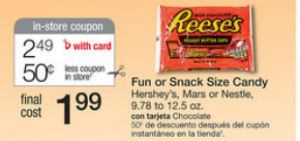 Buy 2 Mars Halloween fun size candy bags (9.78-12.5 oz) – $2.49 each
-$.50 off 1 Mars Halloween candy Walgreens coupon found in the monthly coupon book by the ads in most stores (this will deduct $1)
–$1 off 2 Mars Halloween fun size candy bags coupon
Final Price = $1.49 per bag after coupons (when you buy 2 bags)
RITE AID:  Spend $12 on select candy, get a $4 +UP Reward
Buy 6 bags Skittles or Starburst candy – $2 each
-3 $1 off 2 Skittles, Starburst, or Lifesavers coupon
Spend $9 OOP, get a $4 +UP Reward
Final Price = $5 OOP after coupons and +$UP Reward ($.83 per bag)
Click here for more printable coupons and match-ups–> Printable coupons
*This post may contain affiliate links. Please refer to my disclosure policy for more information