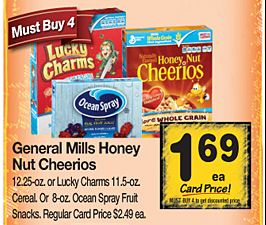 If you have a Safeway or Safeway affiliate store in your area (it's Randall's in my area), this week you can grab a STOCK UP deal on cereal plus get free movie tickets, too!
Honey Nut Cheerios – $1.69
$.50/1 Honey Nut Cheerios printable (no longer available to print, but hopefully, you took my advice and printed it yesterday)
Final Price = $.69 after coupon (if your stores double coupons)
Lucky Charms Cereal – $1.69
$1/2 Lucky Charms cereal printable coupon
Final Price = $1.19 after coupon (when you buy 2)
Ocean Spray Fruit Snacks – $1.69
$0.50/2 Betty Crocker, Mott's, or Ocean Spray Fruit Snacks 10/07/2012 GM Insert (exp 12/01/2012)
Final Price = $1.19 each after coupon (when you buy 2)
If regular Cheerios are included, too, there is a $.50 off printable coupon that will double here–> $.50 off Cheerios coupon 
NOTE:  You must buy the cereal or fruit snacks in multiples of 4 to get the sale price!  You can mix and match items.
When you buy 2 specially marked boxes of General Mills cereals, you can also get a FREE MOVIE TICKET!  Please note that you MUST buy the specially marked boxes to get this promotion! Find out more about this promotion here–> Buy 2 General Mills cereals, get a free movie ticket
Your codes have to be submitted by 12/6 and tickets expire 60 days from the date of redemption.  I didn't see any limits when I was reading their FAQs and TOS, either!
Here's a scenario for you:
Buy 1 box Honey Nut Cheerios – $1.69
Buy 3 boxes Lucky Charms – $1.69
Use $.50 off Honey Nut Cheerios coupon (will double to $1)
Use $1 off 2 Lucky Charms coupon
Spend $4.76 OOP, submit for 2 free movie tickets!