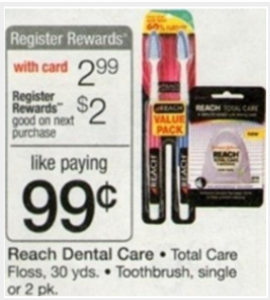 My kids go through toothbrushes like crazy, so I'm always on the look-out for deals on toothbrushes!  Next week, you can score 2 free Reach toothbrushes at Walgreens!  You can't beat free!  These are actually even BETTER than free because they end up being a moneymaker after Register Rewards!
Here's the breakdown on this deal:
Buy Reach toothbrushes 2 count package – $2.99
–$2 off Reach toothbrushes coupon
Spend $.99 OOP, get a $2 RR
Final Price = $1.01 MONEYMAKER!
See more printable coupons here–> Printable coupons
(Thanks Addicted to Saving!)
Disclosure:  This post may contain affiliate links!  Please refer to my disclosure policy for more information!