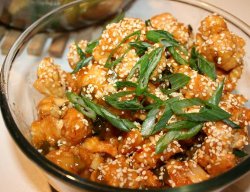 If you're trying to save money by eating out less, grab this FREE Copycat Recipes cookbook! They've got recipes for the Orange Chicken from Panda Express (which is a favorite in our house!), the homemade dressing from Olive Garden, and even KFC's Original Recipe chicken! I have tried several of these recipes an have found that my family likes some of the "copycat" recipes better than the real thing!
Click here to grab this freebie for yourself–> FREE Copycat Recipes e-cookbook
You can also grab another copycat recipe cookbook here–> Seventeen Top Secret Restaurant Copycat Recipes (this one includes recipes from Cracker Barrel, Olive Garden, Macaroni Grill, and Red Robin)
When you sign up, you will be asked to provide your e-mail address and they will send you a newsletter as new recipes are added. I love it, but if you don't like it, you can unsubscribe at any time! You may also be directed to an offers page, but if you aren't interested, you can just click on the "click to skip the free offers and go to the home page now" link. In addition to downloading the free copycat recipes e-book, you can search through hundreds of other copycat recipes!
Which recipe is your family going to try first?
*This post may contain affiliate links. Please refer to my disclosure policy for more information