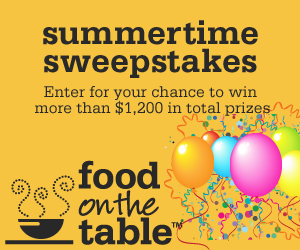 If you are looking for ways to save money, meal planning is the answer!  Meal planning helps us to stay within our budget because we have a "plan" for eating each week (which keeps us from spending money eating out) and it helps me to save at the grocery store, too!
If you're new to meal planning or you're trying to save time, check out Food on the Table!  You can make your weekly meal plan in about 15 minutes including recipes and your grocery list!  It's that EASY!  Right now, they're having a summer sweepstakes and they're also giving away $1,200 in prizes including Visa gift cards!  That would help you stretch your budget even more!
Here's how you can take advantage of this offer:
Click here to grab your free for life membership to Food on the Table–> Food on the Table FREE for life! Make sure you enter the code SUMMERFREE at check-out to grab this freebie!  (if you click through the links in this post, it should automatically show up for you)  This offer was supposed to end last month, but they have extended it, so hurry and grab it while you can!
1. Select stores in your area (I was able to add Kroger, Target, Randalls, and HEB for my area)
2. Choose your recipes for the week (they have gluten free, vegetarian, low carb, and low fat options and you can sort by crock pot recipes, pastas, casseroles, etc. too!)
3.  They'll create your grocery list based on the best sales for the stores in your area!  You can customize your list and add additional ingredients and you can print it or access it from your Smartphone!
If you have a Smartphone, make sure you check out their free app!  I absolutely love it because I can do my meal planning on the go and I have my grocery list right there on my phone!!
NOTE:  I couldn't figure out how to sign up for the free membership using the app on my phone, so I did have to create my membership initially using my computer.
*This post may contain affiliate links. Please refer to my disclosure policy for more information