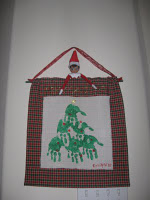 I still have fond memories of some of our family's Christmas traditions from my childhood:  going out to look at Christmas lights on Christmas Eve and my siblings and I all getting new, matching PJs.  When I became a parent, I couldn't wait to start implementing some traditions with my own kids.  One of our favorite traditions is the arrival of our "Elf" (we named him "Jingles").  Our "Elf on the Shelf" arrives the morning after Thanksgiving to "watch" the kids and report back to Santa and to do some silly things along the way!  My kids absolutely LOVE this tradition and have been asking me for weeks now if Jingles is going to be coming back soon.
If you don't have an "Elf on the Shelf" yet, it's not too late to grab one and start this tradition with your family!
You can grab the "official" Elf on the Shelf here–>Elf on the Shelf
There is another version that is about $10 less here–>Christopher Pop In Kins Elf
For ideas on fun you can have with your elf, check out this post–>101 Elf on the Shelf ideas
If you've got any fun "elf" ideas to share, let me know!
*This post may contain affiliate links. Please refer to my disclosure policy for more information