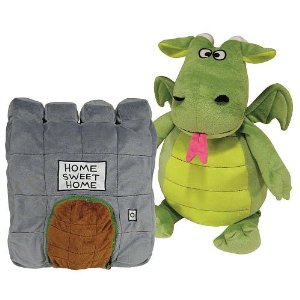 If your kids love Happy Nappers, right now Amazon has a HUGE sale on Happy Nappers!  Get them for as low as $8.29, which is 67% off the regular retail price of $24.99!  These are the lowest prices I've seen!!  My kids got Happy Nappers for Christmas and love them!
Happy Nappers "The Perfect Play Pillow" reverses from a house-shaped pillow into a cuddly friend and back again. Ring the house's doorbell to hear your Happy Napper's Sleepy sounds. Simply unzip the door of the house, pop out your Happy Napper, and then tuck the house away behind them. Cuddly companions for long trips of vacations. Happy Nappers "the perfect play pillow". A perfect carry case to keep all your birds in one place. Ring the Doorbell to hear your Happy Napper's Sleepy Sounds. 21″ in Size.
Here are some of the deals you'll find:  these are direct links to these items!   
Happy Nappers Bear – $11.99
Happy Nappers Cow – $10.99
Happy Nappers Dog – $9.40
Happy Nappers Dragon – $8.29
Happy Nappers Ladybug – $8.29
Happy Nappers Monkey – $10.73
Happy Nappers Penguin – $13.17
Happy Nappers Poodle – $14.99
Happy Nappers Unicorn – $10.79
PLEASE NOTE:  Pricing on Amazon can change at any time!  Verify pricing before finalizing your purchase.  All of these items include free 2 day shipping if you have Amazon Prime or you can get free super saver shipping when you spend $25 or more. 
*This post may contain affiliate links. Please refer to my disclosure policy for more information.