If you've been watching TLC's Extreme Couponing, you may have noticed that most people featured on the show are not using one, two, or three coupons.  They are using 10 and 20 of the same coupon in one transaction!
If you're wondering how to get multiple insert coupons, here are a few ways: 
Coupon Clipping Services – Coupon clipping services offer pre-clipped coupons for a set price (usually $.05 to $.45 per coupon depending on the popularity of the coupon).  They also typically charge a shipping and handling fee.  You go in and select the coupons you want and they ship them directly to you.  There are sometimes limits on the number of "hot" coupons you can purchase.
Here are a few reputable services if you're interested in checking them out: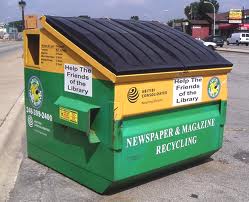 Dumpster Diving – Some people are brave enough to hit up their local newspaper recycling bins to grab extra insert coupons!  I haven't had any desire to do this.  You should also be aware that in some areas "dumpster diving" is illegal.
Ebay – If you search for coupons on Ebay, you will likely find a long list available for sell.  Purchase coupons on Ebay at your own risk. There are many fraudulent, high dollar coupons that are sold on Ebay.  In addition, there are Ebay sellers who copy and sell coupons, which is illegal.  If you use these fraudulent coupons, even if you didn't realize they were fraudulent, and you get caught, you could face prosecution and fines!  If it seems too good to be true, it probably is!
Friends – Some people ask neighbors, friends, and family members for their inserts that they are not going to use.  Some people even manage to make friends with their newspaper carriers and get extra inserts!  When my daughter was a baby, I can remember trading diaper and formula coupons that I didn't use with friends for the brands I did use.
Purchasing multiple papers – If you have a "dollar" store in your area, find out if they carry Sunday papers.  This is an inexpensive way to get multiple papers.
Do you get extra insert coupons?  How many inserts is too many?  How far are you willing to go to get insert coupons?  Would you dumpster dive for them?
*This post may contain affiliate links. Please refer to my disclosure policy for more information