This is a Sponsored post written by me on behalf of Dollar General. All opinions are 100% mine.
I usually by my holiday gift wrap for the next year during the after Christmas sales, but last year I was sick and never made it to the store. As Christmas approaches, every dollar counts and I hate having to spend a lot of money on wrapping supplies! If you still need wrapping supplies this year, Dollar General is your wrapping headquarters and you won't bust your budget buying what you need!
I was selected to be a part of the Dollar General $10 Gift Wrapping Challenge. Dollar General provided me with a $10 gift card to see how far I could stretch it to purchase wrapping supplies.
Here's what I was able to get with my $10: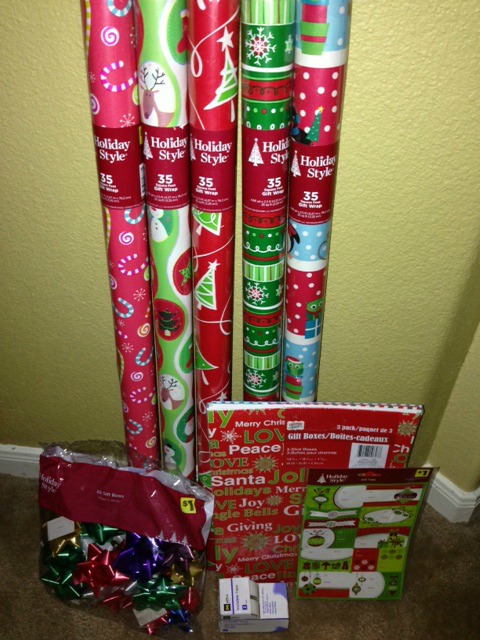 5 rolls of wrapping paper (35 square feet each) – $1 each
2 count box of tape – $1
Bag of bows – $1
1 Package of gift tags – $1 (they are stickers – yay!)
3 pack of shirt-sized boxes – $2
Dollar General has a huge selection of wrapping supplies and you'll find everything you need at your local store! They have a variety of wrapping paper designs ranging from red and green prints to snowflakes, reindeer, and even your child's favorite cartoon characters! When choosing your wrapping paper, make sure you check out the square feet! It ranges from 10 square feet to 35 square feet and I always like to get the most bang for my buck, so I made sure all of the rolls I purchased were 35 quare feet. They also have boxes, gift tags, bows and ribbon, gift bags, tissue paper, tape, and scissors.
Find your local Dollar General store and see what they have to offer here–> Dollar General Gift Center
If you aren't a fan on Facebook yet, you can become one here–> Dollar General Facebook Fan page