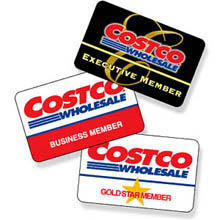 Costco is opening in my area TODAY so I am SUPER excited about this offer!  You can get a Costco membership for $55 and it includes a FREE $20 gift card and bonus freebie coupons!!  A membership is normally $55, so you're getting these additional bonus items for FREE!  Our brand new Costco opens TOMORROW so I am STOKED!
UPDATE:  You can now get this deal for just $49.50, which is LESS than the cost of the membership by itself!!  Use the code USA10 at check-out to get 10% off!!
Click here to grab this deal–> Costco Membership Deal plus FREE $20 gift card (NOTE: If you don't see it listed in your area, choose Beaumont, TX as your city – This is good at ANY Costco)
In addition to the $20 gift card, you will get these items free plus bonus coupons, too:
Free Kirkland Signature™ 48-pack of AA batteries
Free rotisserie chicken
Free Kirkland Signature™ case of water
Plus, when you tell 3 of your friends and they purchase this deal, you can get it FREE! (Yes, if you click on my link, you're helping me get this offer free in the interest of disclosure!)
These are limited time and availability offers so it MAY sell out!