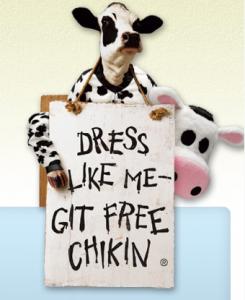 It's Cow Appreciation Day at Chick Fil A, which means that you can get a FREE MEAL if you visit your local Chick Fil A location dressed like a cow!
Click here for details, to get costume inspiration, or to download a cow starter kit–> Chick Fil A Cow appreciation Day free meals
If you come dressed as a cow "head to toe" you will receive a free meal including fries and a drink!
If you come dressed partially as a cow, you will receive a free Chick Fil A sandwich!
This is one of my favorite Chick Fil A events each year and I love seeing all the creative costumes people come up with! Are YOU headed to Chick Fil A today for this promotion?
*This post may contain affiliate links. Please refer to my disclosure policy for more