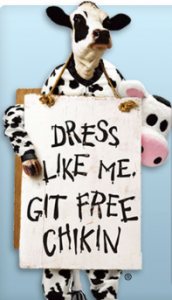 It's Cow Appreciation Day at Chick Fil A today!  When you show up dressed like a cow "from head to hoof" you'll get a free meal (and even if you're not COMPLETELY dressed like a cow, but you showed effort, you'll still get a free entree!).
You can get more details on this promotion here or download your own cow costume kit here.
Are you heading to Chick Fil A for "Cow Appreciaton Day" today?
*This post may contain affiliate links. Please refer to my disclosure policy for more information