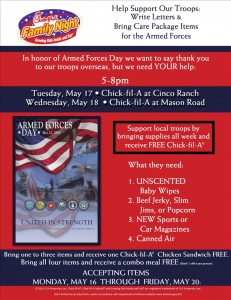 Is your Chick Fil A celebrating Armed Forces day? If you have a store in your area, you may want to check.
At my stores, when you bring the following supplies to support local troops, you will receive a free Chick Fil A sandwich:
-unscented baby wipes
-beef jerky, Slim Jims or popcorn
-NEW sports or car magazines
-canned air
If you bring all four items, you'll get a combo meal available for free! They are accepting items through Friday, May 20th! Details are here. (This is for the locations in my area – you will need to select your area or contact your local stores to see if they are participating in this promotion)
What a great promotion for a great cause!


*This post may contain affiliate links. Please refer to my disclosure policy for more information