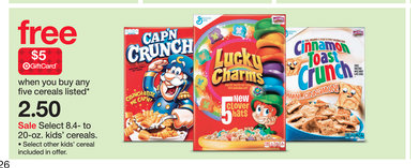 If you're ready to stock up on cereal this week for when your kids head back to school, don't miss this Cereal stock up sale at Target!  When you buy 5 participating cereals, you'll get a FREE $5 Target gift card!
Here's a scenario for you:
Buy 5 participating cereals (including at least 4 Lucky Charms or Cinnamon Toast Crunch and one Apple Jacks) – $2.50 each
Use 2 $1/2 Big G Cereals coupons
Use 1 $.50 off Apple Jacks coupon
Spend $10 out of pocket, get a $5 Target gift card!
These coupons will also work for the sale: all coupon links take you directly to the clipped coupon so you can print easily!
The best part is you can "roll" your gift card from the first promotion into the deal again, which means you'll only pay $5 out of pocket next time or just $1 per box!  I always keep a Target gift card on hand for deals like this one!
Here are the participating cereals:
Apple Jacks
Cap 'N Crunch
Cap 'N Crunch's Crunch Berries
Cap 'N Crunch's Peanut Butter
Chocolatey Crunch
Chocolate Lucky Charms – I didn't even know these existed!
Chocolate Toast Crunch
Cinnamon Toast Crunch
Cocoa Puffs
Disney Frozen cereal
French Toast Crunch
Kellogg's Avengers cereal
Kellogg's Corn Pops
Lucky Charms
Minions Banana Berry
Oops! All Berries
Post Fruity Pebbles
Quaker Life
Reese's Puffs
Sprinkled Donut Crunch
Star Wars
While you're there, make sure you also check out these deals: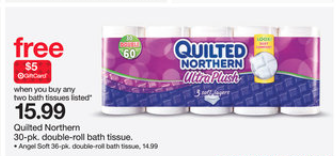 Buy 2 Quilted Northern Toilet paper, get a $5 Target gift card!
Here's your scenario:
Buy 2 Quilted Northern Double Rolls (30 ct) – $15.99 each
–$2.00 off any 1 Quilted Northern and bath tissue
– 5% Off Quilted Northern Target Cartwheel coupon
Spend $26.38 OOP, get a FREE $5 Target gift card
NOTE:  If you already have a Target gift card to "roll" into this deal, you'll pay just $21.38, which is $10.69 per package, which is an AWESOME price!

Spend $25 on school supplies, get a FREE $5 Target gift card (remember you can use gift cards you've earned on other deals to "pay" and you'll get a $5 gift card back!)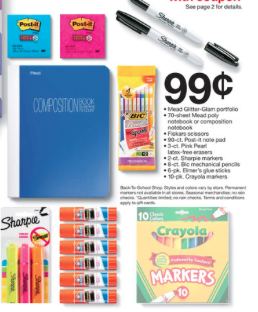 Expo dry erase markers (4 ct) are 2/$5
Sharpie highlighters (3 ct) are 2/$2
Elmer's glue sticks (6 ct) – $.99
Crayola markers 910 ct) – $.99
Fiskars scissors – $.99
90 ct Post it Note pad – $.99
Pink Pearl erasers (3 ct) – $.99
Sharpie markers (2 ct) – $.99
Bic Mechanical pencils (8 ct) – $.99
There are lots of other great deals including deals on backpacks and lunch kits!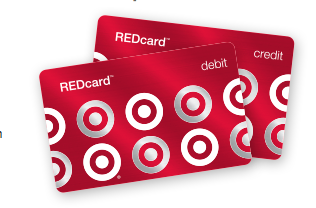 Save an additional 5% on all of your Target purchases with the Target Red Card!  You can choose a debit card option (which is linked to your checking account) or a credit card option.  Apply here–> Target Red Card
See more Target deals here–> Target deals
Find out more ways to save at Target here–> Five More Ways to Save Money at Target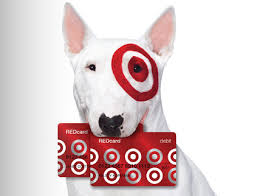 Save even MORE at Target and get free Target gift cards when you get the Shopkick app for your Smartphone!  Earn "kicks" for walking into the store and scanning items in the store!  They add up quickly and you'll get 50 kicks just for signing up here–> Shopkick Registration