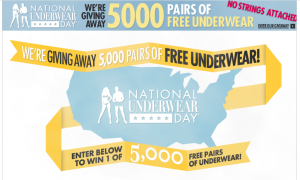 I had no idea that there was a National Underwear Day, but apparently there is and it's TODAY.  To celebrate, you can enter to win one of 5,000 pairs of FREE underwear from Freshpair!  If you win, you get to pick the size and style!
This is just one of many great freebie offers I found out about from Woman Freebies!
Here's how you can enter to win:
1.  Sign up for Woman Freebies here
2.  Once you have signed up, click here to access the offer
Good luck!
(Thanks Christmas Fairy!)
*This post may contain affiliate links. Please refer to my disclosure policy for more information