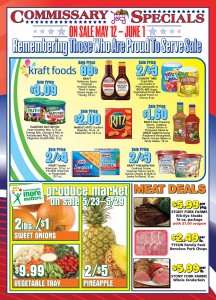 For our military families out there, Here's the Deal is bringing us the best Commisary deals! DeCA permits DOD patrons and their dependents to enjoy savings of up to 30% off regular retail prices everyday! Before shopping, please take a moment to read and print a copy of the current commissary coupon policy.
Here are some of the best deals I see:
Campbell's Pork & Beans – 4/$1
Final Price = $.25 each (no coupon needed!)
Campbell's Tomato or Chicken Noodle Soup – $.55/each
$.40/4 Campbell's condensed soups – 2-13 SS
Final Price = $.45/can (when you buy 4)
Jack Daniels BBQ sauce – $1.25/each
$.75/1 Jack Daniels BBQ sauce – 5-8 SS
Final Price = $.50/each after coupon
Kraft Philadelphia cooking creme – $1.50/each
$1.50/1 Philadelphia Cooking Creme – 3-6 SS
Final Price = FREE after coupon!
Kraft Singles – $2/each
$1/1 Kraft 2% Milk Singles cheese printable
Final Price = as low as $1 each after coupon
Make sure you check out Here's the Deal for the rest of the match-ups!
*This post may contain affiliate links. Please refer to my disclosure policy for more information