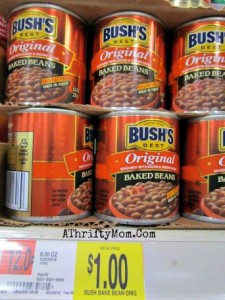 There is a new printable coupon for $1 off 2 Bush's baked beans!  Coupons for Bush's baked beans don't come along very often, so you'll want to hurry and print this one before it's gone!  You can get cans of Bush's baked beans for just $.50 each at Walmart when you use this coupon!  They often go on sale for $1 at my local grocery stores, too!
Click here to print this coupon–> $1 off 2 Bush's baked beans coupon
Here's a breakdown on this deal at Walmart:
Buy 2 cans Bush's baked beans – $1 each
Use $1 off 2 Bush's baked beans coupon
Final Price = $.50 each after coupon (when you buy 2)
NOTE:  Pricing may vary by location.
Here's a recipe for baked beans that I got from my mother in law that our family loves: 
Baked Beans (slow cooker)
for each 1 lb. can baked beans (we use Bush's) add:
2 T. brown sugar
1 T. syrup from pineapple juice
1 T. catsup
1 teas. prepared mustard
Add a small can of crushed pineapple or some tidbits drained
You can also add either bacon, hotdogs, or ham pieces.
I place all of this in the slow cooker on low and stir it occasionally until we are ready to serve.
We usually serve it with this recipe which I also got from my mother in law:
BBQ spare ribs (slow cooker) 
Ingredients:
Spare ribs
3/4 c. brown sugar
3/4 c. catsup
1 med. can tomato sauce
1 to 2 teas. liquid smoke
1 1/2 T. dry mustard
salt and pepper to taste
Put all ingredients in crock pot and stir.  Put meat in and turn the crock pot on low heat – I usually cook them for 8-9 hours and the meat is so tender that it is just falling off!
(Thanks A Thrifty Mom!)
*This post may contain affiliate links. Please refer to my disclosure policy for more information