Zaycon Foods has a new boneless, skinless fresh chicken event coming to a location near you!  I have been purchasing chicken from Zaycon for 2 years now!  I love the qualify of their products and I love being able to stock up!  The portions are large and the taste as we've cooked them has been fantastic and much better than what I've gotten at my local grocery stores!  This is 100 % natural chicken with no added hormones, additives or artificial ingredients.  It is fresh (not frozen) at the time that you pick it up!
Click here to find a location near you reserve your box–>Zaycon boneless skinless chicken breasts for $1.89 per pound
PLUS, through September 5th, save an additional 10% on your order of $125 or more with the code ZAYCON15 at check-out!
A Few Tips: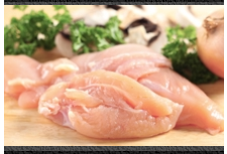 The chicken comes in 40 pound boxes.  I usually buy a box for myself and it lasts me until the next event.  If your family doesn't need that much chicken, you can also split the box with a friend or friends.
The chicken is packaged in a cardboard box and there are 3-4 bags within the box containing the chicken breasts.  I used my Foodsaver to break mine down and package and freeze it.  Plan on doing this the day you pick up your chicken.
When I went to pick up my box, I wasn't sure what to expect.  The process was quick and easy!  I gave them my name and they grabbed the box and loaded it into my car for me!  They even laid a black trash bag across the back of my trunk before they put the box in!
They sometimes have other events, too!  Here are some of the other items they have offered: availability varies by location
Fresh Premium Hickory Smoked Bacon
Wild Alaskan Salmon
Meaty Back Ribs
Beef Franks
Bacon wrapped pork
Polish Kielbasa
Pork Sausage Links
This post contains my referral link. Please refer to my disclosure policy for more information