As I'm writing this, I'm cringing inwardly and laughing at the same time.  You have to understand that I'm not a bacon lover.  In fact, my children had bacon for the first time when we went to IHOP for breakfast one day.  I've been known to use bacon bits from time to time in recipes that call for bacon because I can't bring myself to actually cook it, but that's pretty much as far as it goes.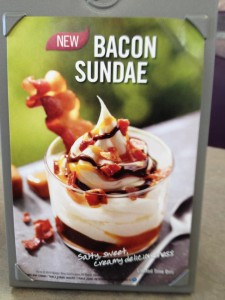 I experienced a mixture of horror and shock when I encountered this display on my table at Burger King last summer.  Bacon Sundae?!  Are they serious?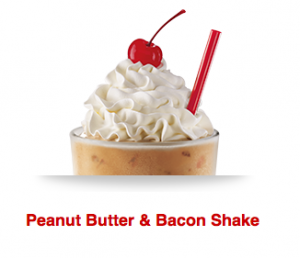 Then, while perusing the list of shakes available for the Sonic Summer of Shakes promotion, I noticed this gem and had to do a double take!  Bacon and chocolate, perhaps I guess?  Bacon and caramel, maybe??  But PEANUT BUTTER AND BACON?  I'm completely lost.  Do people actually order this??
After doing a bit of browsing online, I discovered that this bacon dessert craze is apparently more serious than I thought.  I actually discovered an entire BLOG devoted to bacon dessert recipes that includes treats such as chocolate covered bacon, bacon cookies, and even bacon ice cream.  If you're a bacon lover (or you just can't help yourself and want to check it out), you can see it here–> Bacon dessert recipes
Foodgawker has an entire BOARD devoted to bacon dessert recipes including bacon caramel popcorn and bacon pecan pie.  Check it out if you dare here–> Foodgawker Bacon Desserts
I even discovered entire Pinterest boards devoted to bacon desserts?  Someone help me understand, please?!
Here were some of the highlights:
Mini Bacon Cheesecake (this one is from The Food Network!)
Pancakes and Bacon Cake with Maple Buttercream (do you know anyone with a birthday coming up?)
Peanut Butter-Maple Bacon Fudge
Are you a bacon lover?  Have you tried bacon for dessert yet?  What did you think?