I absolutely dread putting away the Christmas Decorations!  It all just seems so overwhleming to me.  It would probably help if I didn't have so many extra toys now cluttering up my house, all thanks to a very generous Grandma and Grandpa this Christmas.  Where do I start?  Toys?  Decorations?  If you are in the same boat, here are some really great tips that I found to help you get started.
1.  Color-Coded Bins (pictured above): I use these and they are actually a really great idea.  They come in colors for every holiday and can be found at places like Target and Walmart.  This way you always know what bins to pull out for which holiday.  Megan over at Honey We're Home also suggests taking all of your decoartions and placing them in two piles (decorations and ornaments).  This allows you to see how many storage bins you actually need and it also helps you weed out what you still want to keep and what can be discarded.
2.  Storing Ornaments: I absolutely love this idea from Design a la Mod!  I have put off buying the special ornament storage bins sold in stores because of the price and because I wasn't sure how effective it would be, but this quick craft is totally worth it.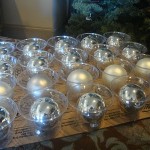 Here is the tutorial on how to make it -> Ornament Storage Tutorial
3.  Storing lights and cords: Who of us hasn't spent all that time winding up the lights after Christmas, only to find them a big jumbled mess when we go to pull them out the next year?  A great suggestion is to wrap the cord individually and then use a zip tie or cord to wrap around it.  Then, place each indivdual set in their own ziplock bag or grocery bag.
Now, what about all those extension cords and other miscellaneous cords?  This is a fantastic idea that I found for computer and camera cords, but than can be adapted for really any kind of cord or small strand of lights.  Start saving you toilet paper and paper towel rolls!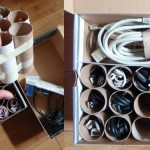 Go here to learn how to make it -> Peta Pixel Toilet Paper Roll Cable Organizer
4.  Plan ahead for next year:  These printables allow you to customize a Chrismas planner just for you.  Now you can put all your recipes, card lists, decorations inventory, and to-do lists all in one place.  Printing one out now for next year is a good idea because then you have a place to write down all those things that you swear you will remember for next year but you never will, like how the cords go for the lights outside, or what bin had what decorations or who do/don't I need to send a card to next year.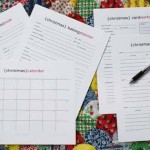 Customize and print a planner here -> Christmas Planner Printables
5.  Toy Sorting:  A great rule of thumb is to donate two old/broken toys for every one toy your child received for Christmas.  Make sure to include your child in the sorting process and be sure to explain the importance of sharing our toys with those who don't have any.  Lastly, remember to make a detailed list of all things donated and to get a donation slip/receipt when dropping off your items so you can claim them on your taxes for next year.
Don't forget about these freebies to help with home organization including printable calendars for the 2012 decluttering challenge–>Five free resources to help you get organized in 2012