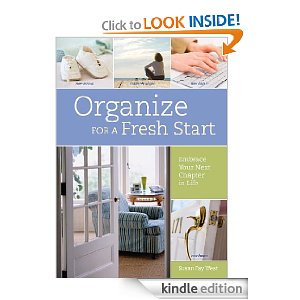 I envy people who have a knack for organization, especially around the house!  This is something that I constantly struggle with, but something that I'd like to be better about this year!  If you've got a New Year's Resolution to get organized in 2012, here are five freebies that will help you!
2012 Declutter Challenge and Organization Calendar from My Simpler Life – I printed this out this morning!  There are monthly calendars with a task for each day.  This looked totally manageable for me and I'm excited to get started!
Organize for a Fresh Start:  Embrace Your Next Chapter in Life free Kindle download – Readers will find practical, step-by-step instructions for reorganizing their homes and techniques for keeping their homes organized.  Organize for a Fresh Start will teach readers step-by-step how to reorganize so they can hold on to what they need, let go of what they don't, and welcome new things that will help them in the next chapters of their lives. Readers will learn how to reevaluate the function of each room in their homes and reorganize their houses for their current life circumstances. Through tips, checklists, questions and exercises, readers work through the process of managing the new activities and systems in their lives in order to more easily settle into a "new normal."
Organized Home – Clean house, cut clutter, and get organized at home!  This site has GREAT ideas and checklists to help you get your home in order.
Here are a few of my favorites:
Organized Pantry:  Beginner Guide to Pantry Pride
Just Mommies – monthly cleaning calendars, organization tips, and more
I Heart Organizing – I could literally spend hours each day browsing this blog, but then I wouldn't get any organizing done!  This site has lots of great and practical ideas (including pictures!) for everything from organizing your medicine cabinet to turning a closet space into your home office!
I'm starting the 2012 Declutter Challenge TODAY!  Does anyone want to join me?!
*This post may contain affiliate links. Please refer to my disclosure policy for more information