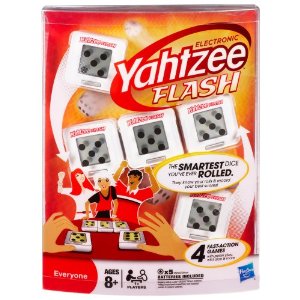 Our family's New Year's Eve celebrations usually includes board games, so I'm always on the look-out for new games to add to our collection!  Right now you can get Yahtzee Flash for $8.73!  That's 71% off the regular price of $29.99.
A fun, fast-moving game with a high-tech twist, Electronic YAHTZEE FLASH will amaze you with its "magical mind-reading" ability–drop the dice, line up the numbers you like, and Electronic YAHTZEE FLASH does the rest. These dice keep track of what you rolled, what you decide to hold, and automatically re-roll the rest so you don't have to. Designed for one or more players, this game features the smartest dice you or your friends have ever used for non-stop excitement.
Click here to add this game to your collection –> Yahtzee Flash for $8.73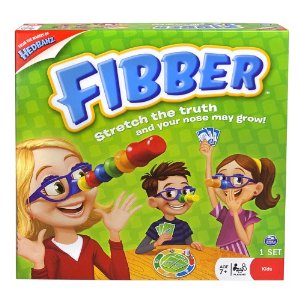 I grabbed this one for New Year's Eve fun last week, but the price has dropped even more since I bought it!  Get Fibber for $8.75!  That's 45% off.  This is made by the makers of Hedbanz, which my family loves, so I'm thinking it will be fun!
In Fibber, it's not what you play; it's what you say. Simply play cards in order and say what you're playing. If you don't have the next card, fib – but don't get caught, or you'll earn a nosepiece and your nose will grow. When there are no more noses left, the player with the shortest nose wins.
Click here to grab this game–> Fibber for $8.75 
Find out how to get free 2-day shipping for 3 months here–> Amazon Prime free for 3 months 
See more Amazon deals here–> Amazon Deals
Please note that pricing and availability changes frequently on Amazon.  Verify final pricing before completing your order.
Make sure you keep your holiday packages safe this year with your free UPS My Choice Membership–> Keep your packages safe this year with your free UPS My Choice membership
*This post may contain affiliate links. Please refer to my disclosure policy for more information